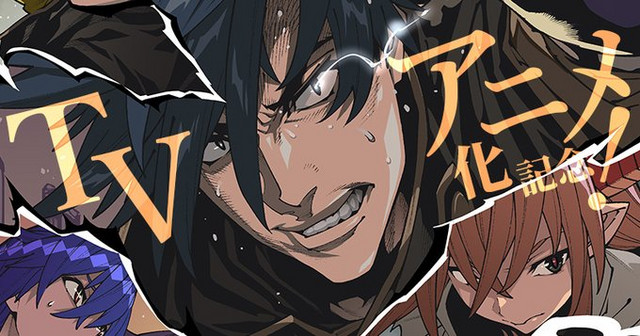 MAG Garden's web comic site MAGCOMI announced today that a TV anime adaptation of Yohei Yasumura's Meikyu Black Company / The Dungeon of Black Company fantasy manga gets a green light. It has been serialized in the publisher's Monthly Comic Garden magazine and the website since 2016, and its latest sixth tankobon volume is set to be released on July 10. Further details including its staff and broadcast date will be announced at a later date.
The manga's English edition has been published by Seven Seas Entertainment since May 2018. The publisher introduces its synopsis as below:
Kinji, who lacks any kind of work ethic, is a layabout in his modern life. One day, he finds himself transported to another world–but not in a grand fantasy of a hero welcomed with open arms. He's immediately shoved into a terrible job! Now enslaved by an evil mining company in a fantasy world, Kinji's about to really learn the meaning of hard work! 
The manga author wrote on his official Twitter:
"I'm sorry to make this announcement out of the blue, but we're in the process of having The Dungeon of Black Company produced as a TV anime. Probably I'm surprised at the news more than anyone else in the world, thinking like 'Seriously?' But it's serious. I would appreciate your support for the animated The Dungeon of Black Company!"
突然のご報告ですが、迷宮ブラックカンパニーをテレビアニメとして制作していただく流れになりました。
多分この世界の誰よりも僕自身が「マジで?」と思っていますが、マジです。
動く迷宮ブラックカンパニーをよろしくお願いいたしやす!https://t.co/0TBOXTBZma
— 安村洋平 (@pizagasukidesu)
July 1, 2020
Now you can win the author's hand-drawn autograph by following the manga's official Twitter (@d_blackcompany) and retweeting the post below.
????『迷宮ブラックカンパニー』TVアニメ化記念フォロー&RTキャンペーン!!????

/

安村洋平先生直筆サイン入り色紙????????️が抽選で1名様に当たる!!

\

応募方法
1.迷宮ブラックカンパニー公式Twitter(@d_blackcompany)をフォロー
2.このツイートをRT

詳細はこちらhttps://t.co/oSaudpZmgG pic.twitter.com/lxAYagGNg1
— 迷宮ブラックカンパニー【公式】 (@d_blackcompany)
July 1, 2020
---
Source: MAGCOMi offiical website, Yohei Yasumura Twitter
© 2020 Yohei Yasumura / MAG Garden corp.